Differential voltage probe - allows isolation in safety with floating voltages. Safe measurements is possible using any oscilloscope

Powertek
UK Tel: +44 1788 519911
US Tel: +1 631 913 3242
Email : info@powertekus.com
Email : info@powertekuk.com

return to homepage | info@powertekuk.com | contact us

The DP9030-Z is an important accessory for any laboratory involved in power electronics. It allows isolated and floating measurements with any oscilloscope whilst the oscilloscope can remain grounded. Using a DP9030-Z probe, differential and floating measurements can be made on a variety of ac power systems like 230V/110V ac input power supplies, chopped and switching power supplies, thyristor controllers, variable speed motor drives (PWM signals), motor inrush current and measurement across current shunts. The isolated input is made via two 4mm/banana safety sockets. The BNC output allows easy connection to an oscilloscope. The DP9030-Z is powered from a 9V battery.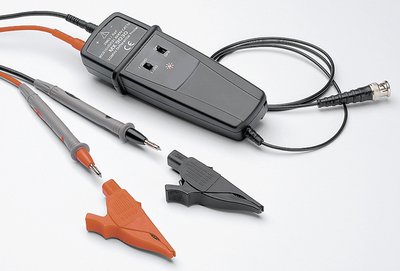 | | |
| --- | --- |
| | 2 attenuation ratios: 1/20 and 1/200 (1000Vpk) |
| | Safe low voltage output ±3.0V for display on a standard oscilloscope |
| | Differential input impedance 2Mohm / 6pF |
| | Output impedance 1Mohm |
| | Electrical safety in compliance with IEC 61010-1 Cat.IV - 600V |
| | Power supply: 9V battery operated for added isolation & safety |
| | Complete with case, 2 x safety type cables, 2 x crocdile clips, 1 x insulated BNC-BNC cable, 9V battery, user manual |
DP9030-Z general specifications
Bandwidth
DC to 30MHz (-3dB)
Accuracy
±3%
Maximum input
1000Vpk max differential
600V / CAT IV max voltage any input terminal to ground
Differential input impedance
2Mohm / 6pF
Output voltage
±3.0V
Output impedance
1Mohm
Rise time
11.7nS
Noise
<2mV, <4mV x 20
Common mode rejection
50Hz >80dB 1MHz >50dB
Power supply
9V battery - typical period of operation 18 hours
Electrical safety
IEC 61010-1, double insulation to CAT IV, degree of pollution 2 - assigned 600V
CE marking
In conformity with EN50081-1 and EN50082-1
Dimensions
163 x 62 x 40mm 250g
Attenuation
x 200
x 20
Range of input voltage
600Vpk
60Vpk

Vertical deviation on the oscilloscope in V/div

Real deviation in V/div

1
200
20
0.5
100
10
0.2
40
4
0.1
20
2
50m
10
1
20m
4
0.4
10m
2
0.2
5m
1
0.1
2m
0.4
40m
The real vertical deviation in V/div is equal to the attenuation factor multiplied by the vertical deflection range selected on the oscilloscope
Other Differential Probe Models Available:
DP14k and DP20k datasheet | DP22kpro datasheet | DP30HS and DP40LV datasheet
DP35 datasheet | DP65pro and DP25 datasheet
All products are CE marked and have IEC, EN or UL approvals.