return to homepage | info@powertekuk.com | contact us


Click here for mobile friendly version of this page



Model SD1000 phase meter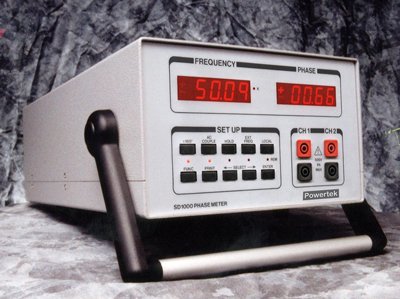 | | |
| --- | --- |
| | 0.02º phase accuracy and 0.001º resolution |
| | Fully isolated inputs |
| | 700 kHz frequency range |
| | Accurate with noisy, distorted and non-sinusoidal signals |
| | Fully auto-ranging and easy to use |
| | Voltage or current inputs |

| | |
| --- | --- |
| | High common-mode noise rejection |
| | 500 Vpk input voltage capability |
| | 1mV sensitivity |
| | 10000:1 input ratio / imbalance capability |
| | IEEE-488, RS232 and printer interfaces |
| | Traceable to international standards |

Download SD1000 PDF Datasheet

SD1000 Accredited Phase Angle Calibration Services

A phase meter not influenced by input noise and distortion
The SD1000 phase meter offers superb accuracy, over a wide range of signal conditions. Conventional phase meters can become erratic when small levels of noise and distortion are present - the result is often unstable and incorrect phase readings. The SD1000 overcomes this by using Discrete Fourier Analysis (DFT) - to reject any noise and distortion without the need for tracking filters.
| | |
| --- | --- |
| Works with noise & multiple zero crossings | Works with digitally generated signals |
Isolated Inputs
The SD1000 phase meter has totally isolated (floating) measurement inputs, allowing the user to connect anywhere in the circuit. This is very useful when the circuit under test does not have common grounds, eliminating accidental grounding and ground-loop currents. The user may choose voltage-voltage phase measurement, voltage to current phase measurement or current to current phase measurement, ideal for phase protection, power meters, energy meters and current transformer calibration
World-wide Traceability
All measurements made with the SD1000 phase meter are traceable to National and International standards through the measurement standards of Powertek. The SD1000 is supplied with a certificate of conformance necessary for quality assurance standards such as ISO9001. A UKAS (independent measurement certification organisation) certificate is available.


Phase meter applications

| | |
| --- | --- |
| | Calibration laboratories |
| | Phase meter |
| | Single phase angle indicators V-A |
| | Three phase angle indicators V-A |
| | Three phase angle indicators A-A |
| | Cos Phi indicators |
| | Power factor meters |
| | Watt meters |
| | Multifunction watt transducers |
| | Phase protection relays |
| | Power meters |
| | Energy meters |
| | Current transformer calibration |
| | Current probe phase delay |
| | Transformer phasing |
| | Synchro |
| | Resolver Angle indicators |


Verifying phase angle error of current transformers and current sensors




Non-inductive shunt Option 02F/B,
25A - 50A Models used to enable SD1000 phase angle measurements
between voltage and current



Non-inductive shunt Option 02F/B 1A - 20A
Models used to enable SD1000 phase angle
measurements between voltage and current

SD1000 phase meter specifications
Phase
Range
± 180.000º or 0.00º to +360.00º
Accuracy (23º ± 5ºC; 1-year cal interval)
0.5Hz to 100Hz
± 0.02º ± 1 digit
>100Hz to 1kHz
± 0.03º ± 0.005º /kHz ± 1 digit
>1kHz to 100kHz
± 0.04º ± 0.005º /kHz ± 1 digit
>100kHz to 700kHz
± 0.25º ± 0.005º /kHz ± 1 digit
Resolution
0.001º
Repeatability
0.005º ( ±0.003º via interfaces)
Frequency
Range
0.5Hz to 700 kHz
Accuracy
±0.1% (23ºC ± 5ºC)
Inputs
Voltage Range (operational)
Current ranges using Options 02F/B
All voltage and current input combinations are possible
1mV rms to 350V rms (500Vpk)
20mA - 2Arms range Opt. 02F/B 1R00 5Hz - 20kHz
1.0Arms to 20Arms range Opt. 02F/B 0R01 5Hz - 20kHz
Bandwidth
0.5Hz to 700kHz
Isolation (inputs to ground)
2000V
Impedance
2 Mohm and 10pF
Environment
Temperature
Operating
0ºC to + 50ºC
Storage
-40ºC to +70ºC
Humidity (non-condensing)
10% to 90% RH
Dielectric Strength
Inputs to case or AC line input
2kV AC 50/60Hz 1 minute
Power supply to case
2kV AC 50/60Hz 1 minute
Power Requirements
Line input voltage
110V or 220V AC ± 10%
Line input frequency
50/60Hz
Line input fuse
315mAT
Line input conformance
IEC348 Class I; EN61000-3-2; EN61010 Class I; IEC801 Parts 1 to 4; EN55011
Power consumption
25VA
Mechanical
Weight
5kg (6kg in delivery packaging)
Dimensions (W x H x D)
215mm x 144mm x 390mm
Download SD1000 PDF Datasheet

SD1000 Accredited Phase Angle Calibration Services